Company History
Our story begun in February 1977, almost 40+ years ago, when our founder, Mr K Wong and his wife, Rebecca Leung founded Universal Plastic & Metal Manufacturing Limited.
Mr Wong single-handedly built our Company's very first asset, which was a disposable plastics gloves machine. This machine now stands proudly in our Jiangxi factory. At the time, both husband and wife team engaged housewives to help fold and pack the gloves. When business grew, they opened their very first rented factory in Yuen Long, Hong Kong, employing several staff.
The 1980s marked a time when China started opening its doors to foreign investments. In 1988, Mr Wong and his wife seized this opportunity by relocating their factory operations from Hong Kong to Shenzhen, China.
In 1995, with increased confidence and continued growth in China's economy, Mr Wong and his wife acquired their first property in China, which was a 3,000 square metres of land in Dongguan in which they built their factory. By this time, their customer base grew and they had also diversified into many different products such as aprons, shower caps, hairdressing capes, hotel amenities and many more.
In 1998-1999, Mr Wong's two eldest sons, Rickly and Victor returned home after graduating overseas to help their dad with the business. Having his sons onboard meant that our Company could expand internationally, beyond the local markets. This period saw tremendous growth in international orders. Our product range continued to expand into carrier bags, disposable raincoats, buntings, pong bong sticks, equipment covers and many other custom-made products.
In 2003, Mr Wong and his wife officially retired from their daily duties in the business but continued their roles as Company Chairman/Chairwoman for all significant meetings.
In order to keep up with customer orders and the lack of space in our Dongguan factory, another land located in Jiangxi covering an area of 31,000 square metres was purchased in 2006. With the exception of plastic carrier bags, all our production lines were transferred from our Dongguan factory to our new Jiangxi factory.
In 2014, Mr Wong's youngest son, Richard returned home to join the business. His return was an important part of our Company's history as it reunited all three brothers who were highly committed in carrying on their father's legacy.
Another positive change took place in 2015. Our plastic carrier bags were also transferred to Jiangxi to make way for a Y2k state-of-the-art cleanroom in Dongguan to cater for our food packaging product line.
Three years later, in October 2019, with promising and continued development in Jiangxi province, our Company decided to increase its presence there by consolidating ALL our production lines into one large factory.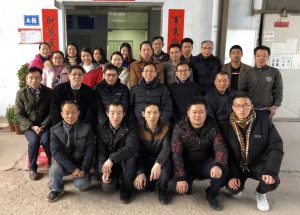 From 2019 – present, our Company has grown from strength to strength. All three brothers have always focussed on embracing changes when they occur, whether it may be technological, market-driven, environmental or for any other reasons. Our current product mix reflect this. We are now proud manufacturers of some newer products such as compostable products, protective aprons and gowns, vacuumed bags for the food industry and many more.
Throughout our 40+ years of history, our Company also maintains a head office in Hong Kong which is responsible for its administrative, accounting and managerial work.
Today, all three brothers are co-directors who continue to lead our Company with passion, dedication and a sense of pride in the business they grew up with.